Client: Expedia Canada
Product: Branded content on Vancouver for placement in travel magazine site
Family Fun in Vancouver: 7 Top Things to Do with Kids
Vancouver is a favorite destination for families, which is why Expedia.ca asked us to share our recommendations for the top 7 things to do with kids. This bustling west coast town in British Columbia is filled with kid-approved attractions and activities. From the Vancouver Aquarium to the miniature train in Stanley Park, here are our favorite family-friendly ways to experience Vancouver.
Vancouver Aquarium

The largest aquarium in Canada, the Vancouver Aquarium is home to more than 50,000 animals, including dolphins, sea lions, sharks, sea otters and more. The aquarium has a full schedule of educational and entertaining shows, including an excellent presentation on sharks. Don't miss the feature programs, such as Wet Lab Exploration, which takes you behind the scenes at the aquarium to get up close and personal with marine animals.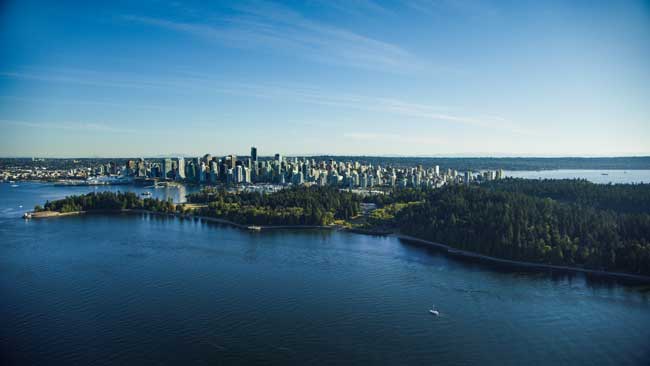 Stanley Park

After visiting the Vancouver Aquarium, explore surrounding Stanley Park. This giant green oasis in Downtown Vancouver has half a million trees, miles of trails, a lighthouse, beaches and even carved totem poles. Kids love the playgrounds and the Stanley Park Miniature Train. There's even a water park and several swimming pools to keep you cool on summer days. Take a picnic and spend the afternoon here.
Granville Island
Once home to Vancouver's industrial area, Granville Island is now a shopping and entertainment district filled with restaurants, theaters, hotels and more. For little ones, the Kids Market is an indoor 2-story building with shops, services and kid-friendly activities. Kids can play in the ball pit, create an artistic masterpiece in one of the interactive craft shops or splash around in the nearby spray park. The Adventure Zone is an old-fashioned arcade with a four-level play area, a perfect spot for rainy days.
Capilano Suspension Bridge Park
For families looking for a little adventure, the Capilano Suspension Bridge is a must-visit. One of the most popular attractions in Canada, this heart-stopping suspension bridge stretches 450 feet (137m) across and 230 feet (70m) above the Capilano River. But the park is not just a bridge; there are many attractions and unusual ways to experience the area. One of the best ways to view the park is from the treetops. Treetops Adventure takes guests high above the 250-year-old forest, walking across seven suspension bridges, some as high as 110 feet (33.5m) above the forest floor. For little one, the Kids' Rainforest Explorer Program is a fun and entertaining way to make the most of this unique rainforest encounter. Another way to experience the park is the Cliffwalk, a journey along a series of suspended walkways that jut out from the granite cliff above the canyon. All park attractions are included in the price of admission.
Grouse Mountain Skyride
For an incredible view of Vancouver, the Gulf Islands and the surrounding Pacific Ocean, take the Grouse Mountain Skyride to the Peak of Vancouver. The largest aerial tramway in North America, Grouse Mountain Skyride operates 365 days a year, and departs every 15 minutes running from 8:45 am to 10:00 pm. Grouse Mountain is located 15 minutes from downtown Vancouver.
FlyOver Canada
Located at Canada Place in downtown Vancouver, this interactive 4D ride is a hit with the whole family. Using the latest "in-flight" ride technology, guests soar from coast to coast viewing some of Canada's most incredible sights, from its sprawling prairies to snow-capped mountains and vibrant cities. During the eight-minute ride, passengers hang suspended before a 20-meter giant screen. FlyOver Canada uses wind, mist, scents and state-of-the-art technology to make you feel like you're flying. Note that children must be at least 40″ (102cm) tall to ride.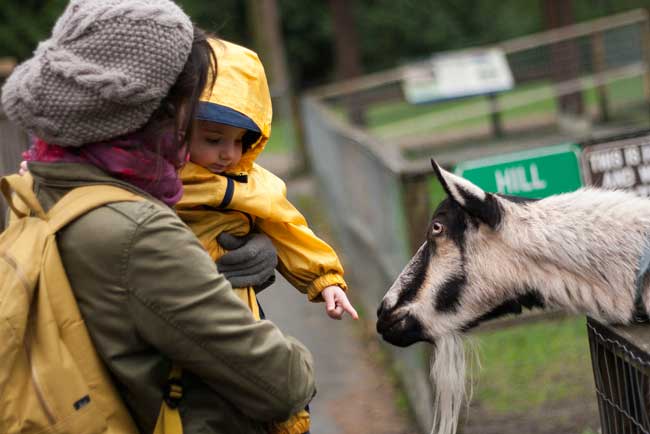 Maplewood Farm
This attraction on Vancouver's North Shore is a favorite with locals and visitors alike. Maplewood Farm is home to more than 200 animals and birds. Kids can ride ponies, pet Pygmy goats, lambs and even calves in an area called "Goathill." Fluffy New Zealand rabbits enjoy being fed dandelions, kale and parsley from visiting children. Maplewood Farm also has larger animals, including Belgian Draft horses. Daily milking demonstrations take place at 1:15 pm, and there is a Sheep Fair on the last Sunday in May.
If You Go
Tourism Vancouver
https://www.tourismvancouver.com/